While visiting Sicily, you cannot miss a cheese platter with a good glass of wine.
It will be challenging to taste all the different types of cheese from Sicily because each area has its own specialty with many versions. You then have a never-ending list of classifications: PDO, PGI, TSG, PAT, and the "Slow Food" Presidia.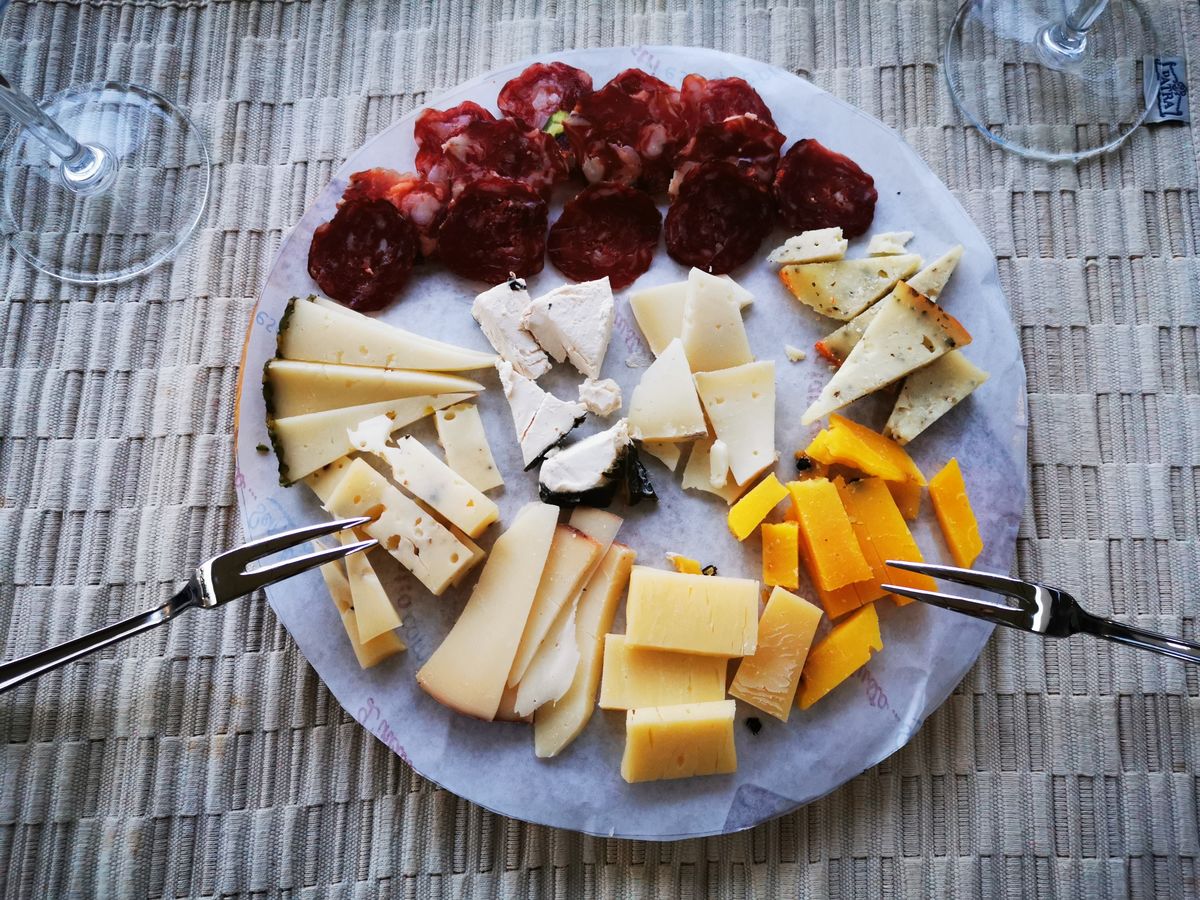 In any case, it's difficult to make mistakes when choosing since all the cheeses have one thing in common: their great taste! Furthermore, they are the accomplishment of hardworking people running small family farms who, from generation to generation, make the gestures of a timeless daily ritual.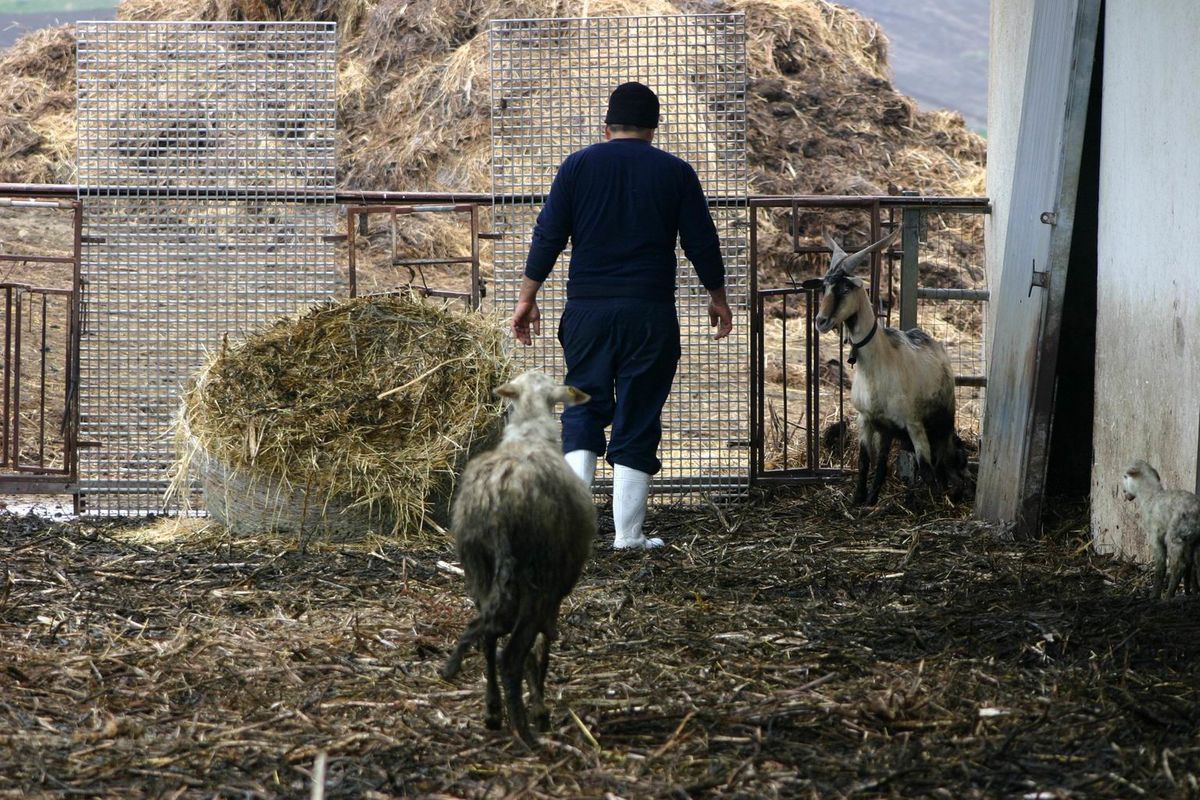 Dairy farms and farmers in Sicily
Being a cheese farmer requires an ongoing commitment to a routine which, nowadays, is almost unthinkable for most of us. The morning wake-ups and the animal care (either cows, sheep or goats) don't give you time off or public holidays. In addition, the cheese processing, both during the production and throughout the stages of preservation and aging, doesn't allow for any mistakes.
Try to visit a cheese farm and we're sure that you'll then enjoy your cheese platter in a different way and more consciously. You'll never forget the words and faces of those tireless farmers who nicely welcomed you their work and life.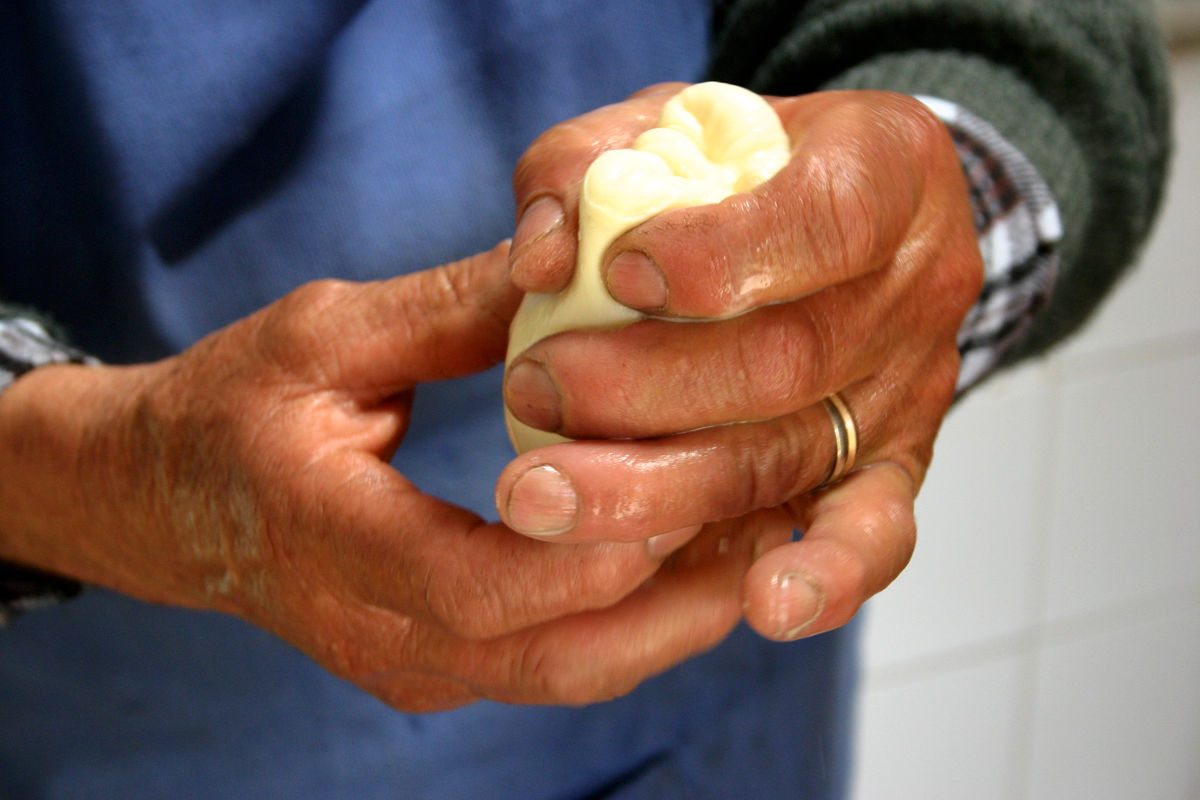 Shaping Provola from Nebrodi Mountains
Cheeses to taste during a trip in Sicily
Here we wish to guide you and give you some advice on those cheeses you cannot miss during a your journey in Sicily.
Let's discover the PDO Sicilian cheeses
You'll find the 4 PDO cheeses from Sicily in any good wine bar or top-notch grocery:
Sicilian Pecorino: it is mainly produced in the western side of the island and, according to the procedural guideline, they must guarantee the natural pasture for Sicilian breed sheep (historically they are three: Valle del Belice, Barbaresca and Comisana) and the handmade salting. The shape of this cheese is traditionally due to the so-called fasceddi, which are cane baskets creating a striated pattern all over the crust;
Vastedda del Belice: it's one of the few sheep's milk stretch-curd cheeses or maybe the only one as claimed by some producers. The provinces of Trapani, Palermo and Agrigento are the area of production, and we just have 7 producers making this cheese;
Piacentinu Ennese: the name means the cheese "that pleases (piace)". It's easy to recognize it from its intense yellow color, due to the addition of saffron and the presence of black peppercorns. There are only 10 family farms following the procedural guideline, and they are all situated in the province of Enna (in the core of Sicily);
PDO Ragusano Cheese: in this case we have more producers making it but, in the meantime, there are also many imitations which are distant from the quality of the original one. The Ragusano cheese is a cow's milk stretch-curd cheese aged from 3 to 12 months or longer. Originally, it was just made using the milk of Modican cows, whose shiny brown coat is easily recognizable among the dry-stone walls and the carob trees in the countryside of Ragusa and Modica.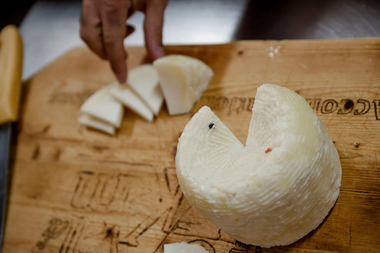 Sicilian Pecorino (ph. Pierfilippo Spoto)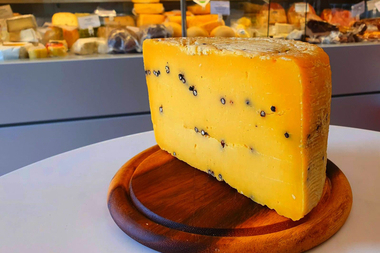 Piacentino Ennese (ph. Barbara La Rocca)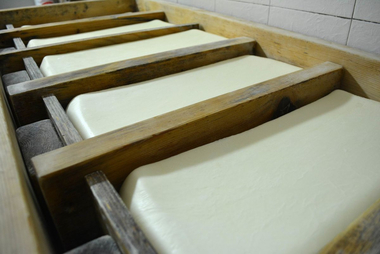 Caciocavallo Ragusano
Other historic Sicilian cheeses and Slow Food Presidia
For those who are cheese aficionados, there are other Sicilian cheeses you cannot fail to try. Most of these cheeses are also Slow Food Presidia deriving from animals which are Presidia themselves for their rarity.
But, what is special about the historic Sicilian cheese? These 3 essential features:
they are only produced with raw milk and natural rennet;
during the cheese processing, they use traditional timber and copper utensils which ease the reaction of microorganisms;
the aging must be done inside appropriate and well-ventilated rooms.
Here you have the main historic cheeses from Sicily:
Maiorchino (Slow Food Presidium): a traditional cheese from Messina area, which blends sheep and goat milk. If you visit north-eastern Sicily during Carnival, you cannot miss the Maiorchino feast in Novara di Sicilia, where they roll these cheeses around the town's streets;
Caprino of Girgentana: it is produced in Agrigento with the milk of Girgentane goats, which are famous for their long and twisted horns (Slow Food Presidium);
Provola from Nebrodi and Madonie Moountains: two cow milk stretch-curd cheeses which have become Slow Food Presidia;
Fiore Sicano: produced in the Agrigento Area and the Sicani Mountains, it is easily recognizable for its grey-green crust which is due to the mold;
Tuma Persa: nowadays we just have one dairy farmer from the Sicani Mountains making this exquisite cheese, whose name is "lost cheese" due to its phase of fermentation during which the cheese is "abandoned" in its mold for 20 days. This is one of the few cow milk cheeses from this area.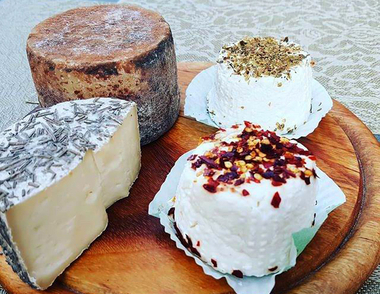 Caprino of Girgentana (ph. Barbara La Rocca)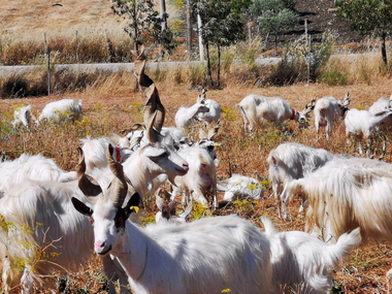 Girgentane goats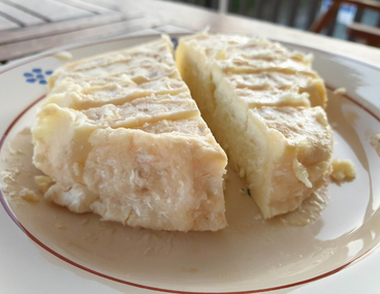 Caprino of Girgentana
Finally, an article on Sicilian cheeses cannot be exhaustive without speaking about the ricotta cheese, which deserves a separate discussion. This is a basic raw ingredient of the Sicilian cuisine: it's used everywhere from as stuffing for "Ravioli" and baked products to being a base for many sweets like "cannoli" and "cassata". Sicilian Ricotta cheese is mainly done using sheep milk but, in the Ragusa area, the farmers just use cow milk.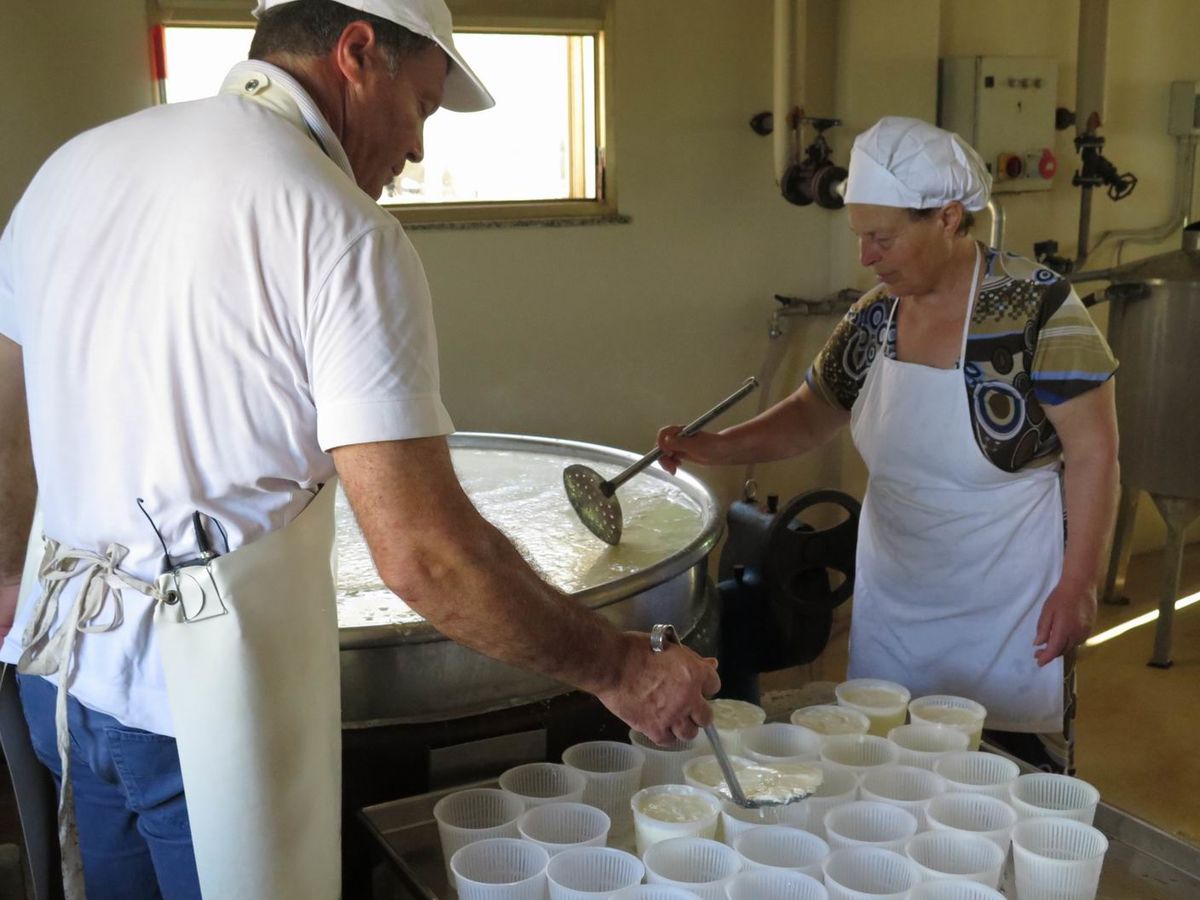 Skimming the fresh Ricotta Cheese
If you cannot bring fresh ricotta cheese with you, you can always buy a piece of "Ricotta salata" (salted ricotta cheese) or "Ricotta al forno" (baked ricotta), which are usually grated over many pasta dishes, above all the "Pasta alla Norma", a pasta dish with fried eggplants and fresh tomato sauce.
"Ricotta al forno" (baked ricotta)
Where to taste and buy the best cheeses from Sicily
Ragusa: Salumeria Barocco in Ragusa Ibla (to taste and buy) and Dipasquale Formaggi (just to buy)
Siracusa: Fratelli Burgio at the open-air market of Ortigia (to taste and buy)
Agrigento: Enoteca 'Nzolia (to taste) and Salumeria Antichi Sapori (to taste and buy)
Palermo: Drogheria del Buongusto and Pizzo&Pizzo (to taste and buy)
Our special thanks go to Barbara from Salumeria Barocco to share her pictures and passion for cheese with us!